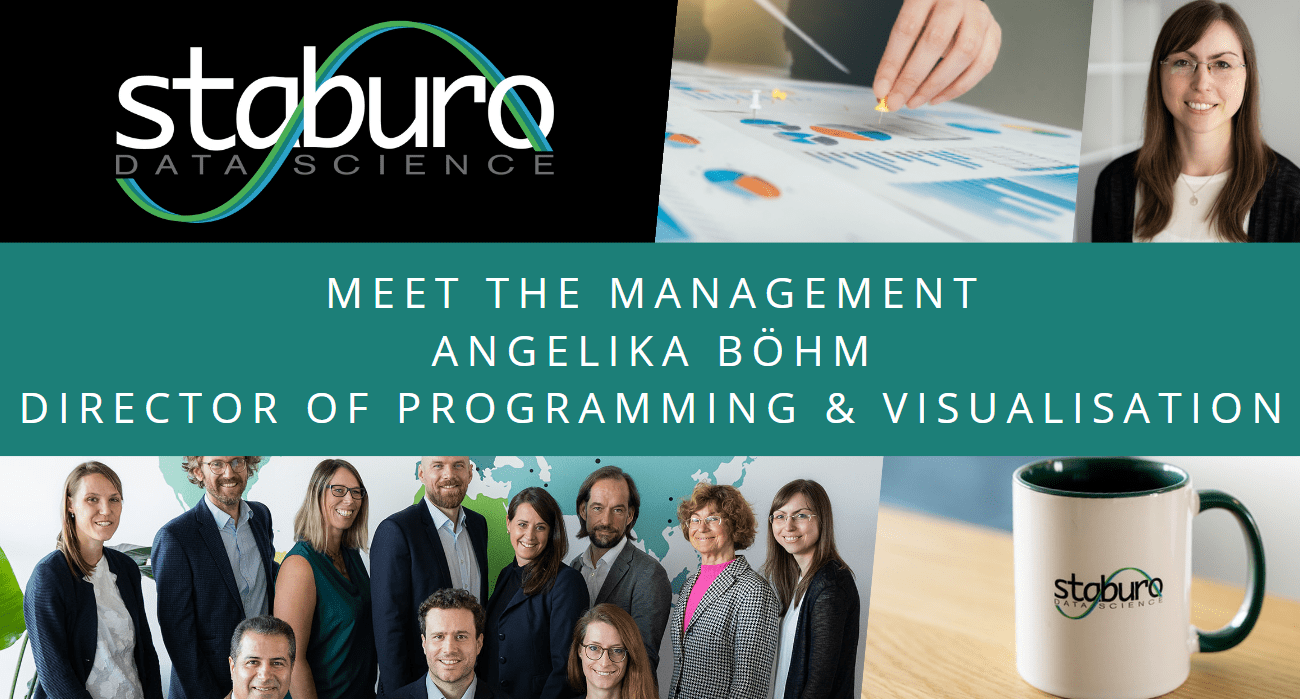 Meet the Management – Angelika Böhm – Director Programming and Visualisation
Since our team grew substantially, we searched, appointed, and enabled a bigger management team at Staburo, consisting of two heads (of departments) and six directors (focus on data science topics). We want to give them a chance to talk about themselves and their passion! Therefore, we publish a mini news series about the management team members and will continue and at the same time end this series with our Director Programming and Visualisation, Angelika Böhm.
Who are you?
Hi, my name is Angelika Böhm and I am Director Programming and Visualisation at Staburo. I studied Biometrics at the university in Ulm. I have been working at Staburo for more than 6 years now. It all started in a very small team, and I have been part of the development of the company. Since 2021 I am responsible for the programming activities at Staburo.
Please tell us something about your area of work.
As Director Programming and Visualisation, I am trying to establish the processes and procedures to provide our colleagues the framework to retrieve their full potential. Precision and love to details are key capabilities in programming. But also making data easy understandable via visualisation is a big part of our work. Standardising without losing flexibility and creativity to be effective and not only efficient is the overarching principle of this focus area.
What are your goals for your role?
My goals are to further improve our programming environment and train people to have fun with programming. We want to facilitate the entry into learning this skill set in the field of data science even if it is challenging.
Thanks again to all Staburo heads and directors for providing some insights into their focus areas and for being open during our mini-interview series.
The previous interviews could be found here: Stefan Bentink, Habib Esmaeili, Katrin Frank, Lena Herich, Luciana Husfeld, Janine Roy and Laura Schlieker
Data analysis, clinical biostatistics and more.