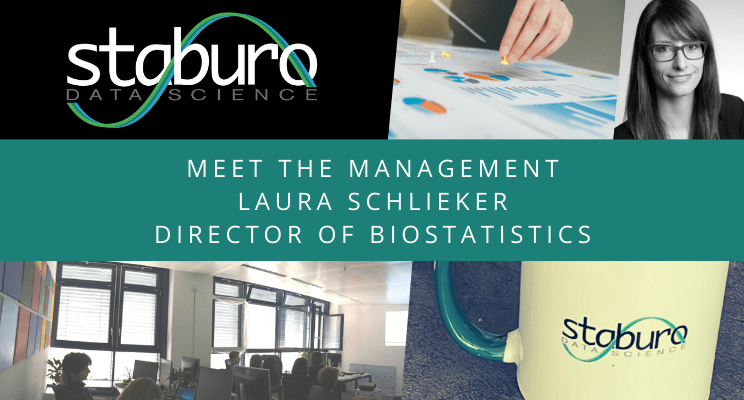 Meet the Management – Laura Schlieker – Director Biostatistics
Since our team grew substantially, we searched, appointed, and enabled a bigger management team at Staburo, consisting of two heads (of departments) and six directors (focus on data science topics). We want to give them a chance to talk about themselves and their passion! Therefore, we will publish a mini news series about the management team members, here. Last month we started with our head of quality assurance, Luciana Husfeld and will continue with our director biostatistics, Laura Schlieker.
Who are you?
I am Laura Schlieker, director biostatistics with focus on biomarkers. I joined Staburo 5 years ago and I am looking forward to the next years. I am statistician by training and received my bachelor's and master's degree in Statistics with focus on biometry from Technische Universtität Dortmund, several years ago.
Please tell us something about your area of work.
My area of expertise are predictive and prognostic biomarkers, mainly in oncology, as well as biomarkers in diagnostics. I am passionate about multivariate statistics and machine learning! I love doing statistics, but also to work hands on with data and to program in R! One of my strengths is the capability to handle several projects at the same time, but still being able to keep track.
What are your goals for your role?
I am striving to build up a group of experts in the field of biomarker research and precision medicine. My aim is to create an inspiring and friendly work environment where everyone has the chance to grow and use their strengths!
Data analysis, clinical biostatistics and more.