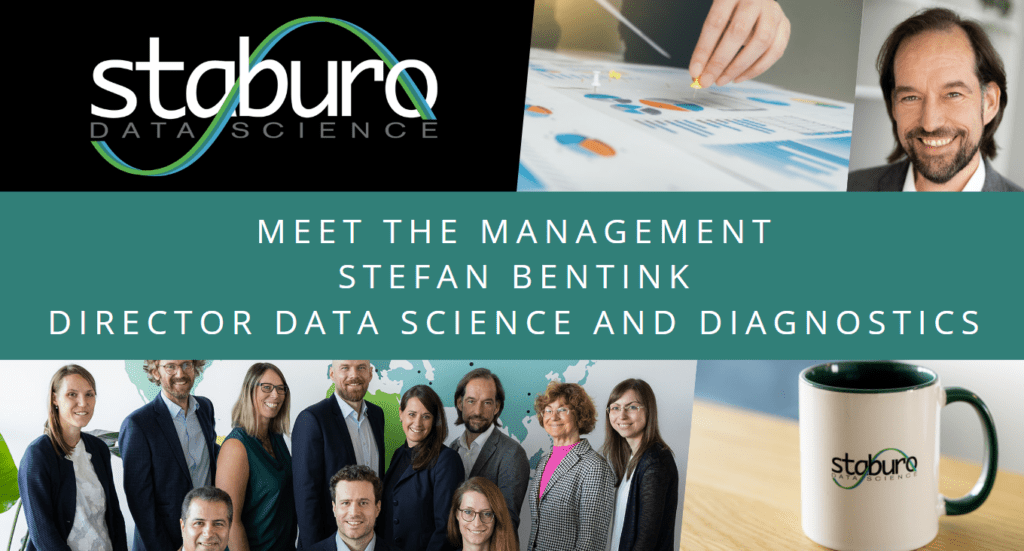 Meet the Management – Stefan Bentink – Director Data Science and Diagnostics
Since our team grew substantially, we searched, appointed, and enabled a bigger management team at Staburo, consisting of two heads (of departments) and six directors (focus on data science topics). We want to give them a chance to talk about themselves and their passion! Therefore, we publish a mini news series about the management team members and will continue with our Director Data Science and Diagnostics, Stefan Bentink.
Who are you?
My name is Stefan Bentink, and I am Director Data Science and Diagnostics. I received my PhD in Bioinformatics from FU Berlin, and my scientific background is in the field of diagnosis and classification of disease, based on genomics data using bioinformatics and machine learning methodology.
Tell us something about your area of expertise.
Throughout my entire career – in academia, biotech, and the pharma industry – I have been developing and employing data analysis and modeling strategies, to mine biomedical research data in order to gain scientific insights and to translate these insights into real world diagnostic applications.
What are your goals for your role?
The nature of statistical analysis tasks in the context of diagnostic assay development can be diverse. Innovation is driven by new scientific insights often discovered during retrospective and exploratory analyses of complex and high-dimensional biomedical data sets. The situation changes further down the research and development chain, when the goal is to market a new diagnostic product. The freedom to operate and explore becomes limited by the constrains of regulation and the need for prospective study planning.
One of my tasks as Director Data Science and Diagnostics is to facilitate the exchange between Staburo experts in bioinformatics, biomarker research, and biostatistics. In this interdisciplinary work environment, we learn from each other to provide customers with the best possible support, during all stages of the development of medical devices and diagnostic assays.
What motivates you as an individual?
I'm thrilled by interdisciplinary biomedical research and development questions! On the one hand, these projects require a lot of communication and exchange between experts from different fields. On the other hand, there is a challenge in the underlying data science or statistical questions. This is what I love about my job, the balance between interaction with people and the focus on solving the analysis puzzle behind the data!
Data analysis, clinical biostatistics and more.