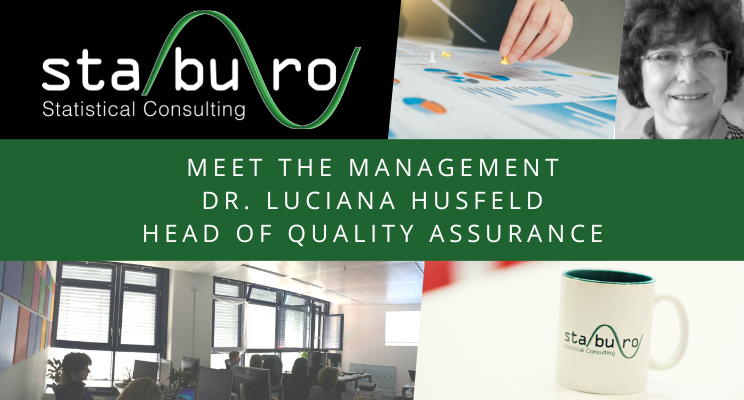 Meet the management – Luciana Husfeld – Head of QA
For several years, the managing directors were the main contact persons for clients, potential candidates, and employees. Since our team grew substantially, we searched, appointed, and enabled a bigger management team at Staburo, consisting of two heads (of departments) and six directors (focus on data science topics). In order to give them a chance to talk about themselves and their passion, we will publish a news series about the management team members in the next months and will start with Luciana Husfeld.
Who are you?
My name is Luciana Husfeld, head of quality assurance (QA). I am by training a pharmacist and food chemist and made my PhD in immunology. My business experience includes many years of international work in various regulated areas such as pharmacy, cosmetics, medical devices, and nutrition. My team and I are responsible for the quality system at Staburo, predominately based on GCP.
Tell us something about your area of expertise.
We plan, support, and monitor all QA activities, and we are liable for the life-cycle management of all QA documents. We ensure compliance with training requirements, conduct internal trainings, and interact with all colleagues and Staburo departments. We are also responsible for the planning, implementation, and the follow-up of internal and external audits. Our quality team needs the following qualities: excellent knowledge about GCP, persistence, friendliness, support mentality, creativity, and ability to formulate standards with reasonable detail.
What are your goals for your role?
Our aim is, to continuously enhance Staburo`s quality system in order to offer our clients excellent service. We strive for zero findings in audits!
Data analysis, clinical biostatistics and more.