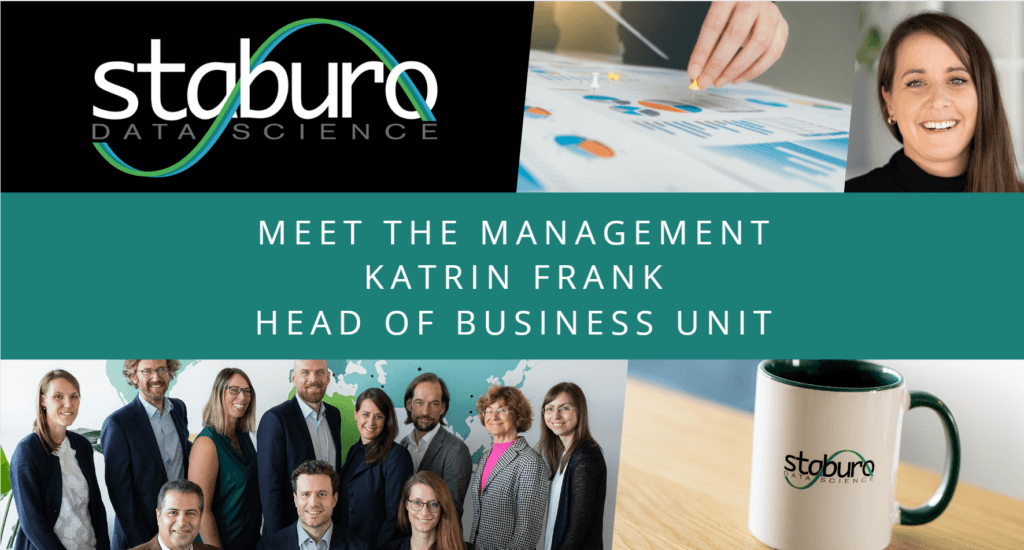 Meet the Management – Katrin Frank – Head of Business Unit
Since our team grew substantially, we searched, appointed, and enabled a bigger management team at Staburo, consisting of two heads (of departments) and six directors (focus on data science topics). We want to give them a chance to talk about themselves and their passion! Therefore, we publish a mini news series about the management team members and will continue with our Head of Business Unit, Katrin Frank.
Who are you?
Hi, my name is Katrin Frank, Head of Business Unit.
My university background is in international business and cultural studies. I'm with Staburo for more than 7 years now and supporting the growth of Staburo, especially from business perspective. Since 2021, I'm heading the business unit and my special focus is on finance and human resources.
Tell us something about your area of expertise
My dedication is to steadily improve and develop the organizational backbone of Staburo, optimizing processes and be one step ahead of Staburo's growth.
As part of the management team, I create an environment at Staburo, in which everybody likes to work and can evolve in their personal development and augment their strength. This atmosphere aims to facilitate the collaboration within and across teams.
What are your goals for your role?
Advancing, professionalizing, and creating sustainable structures are my passion!
My goals are to further enhance the profile of the business unit and give it a more precise identity to be ready for the next steps!
Data analysis, clinical biostatistics and more.