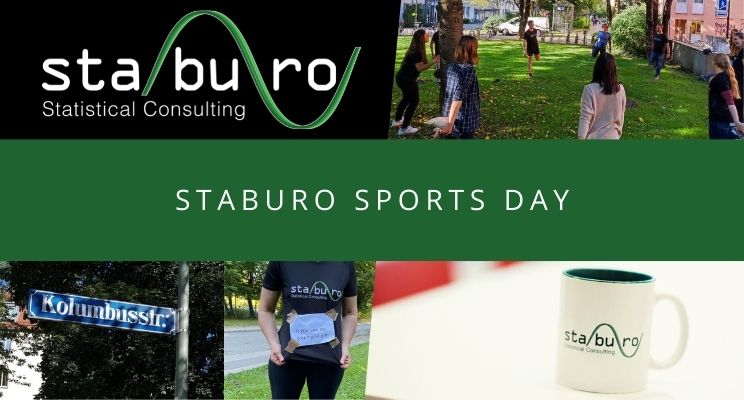 Staburo Sports Day
"The man who moves a mountain begins by carrying away small stones." – Confucius
Overcoming the challenges of a pandemic can feel like trying to move a mountain, but on September 23rd we came together (with distance) as a group to move some stones. The Staburo Sports Day wasn't just our way to replace the annual B2Run event, but a sorely needed reconnect with our colleagues.
Starting at the Kolumbusplatz we all made our way south along the Giesingerberg, guided all the way by the green and white of Staburo thanks to the adventurous work of Ulrike and Laura earlier that afternoon. Although summer was dwindling, we found ourselves catching up with our co-workers in the sunshine and enjoying the last of the green leaves along our route. We walked and ran our way towards Heilig-Kreuz-Kirche, passed the Grünwalder Stadion, and crossed the Isar at the Marienklause. The balloons that marked our way were collected enthusiastically all the while (no, not by the statisticians, by the kids!). Our route finished after 5 kilometres with Gabi (our well-defined endpoint) who greeted us with drinks and a smile. Finally, we ended our evening at the Asam Schlössl Biergarten with Brotzeit, drinks, and Kaiserscharrn.
Whether we'll have a B2Run in 2022 remains to be seen, but what we know for certain is that Staburo can find a way to stay active and keep our ties strong.
Data analysis, clinical biostatistics and more.