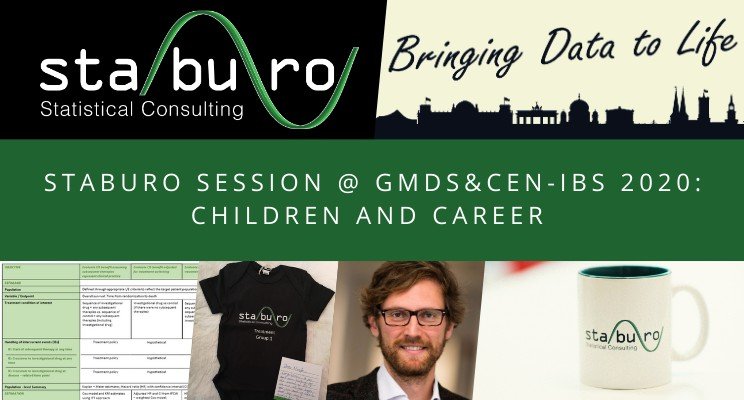 Staburo @ conference of the GMDS & CEN-IBS 2020
Dr. Hannes Buchner, Managing Director from Staburo participated in this online Conference on 08 SEP 2020 and talked about the topic "Children and Career" together with Benjamin Hofner from PEI, Cornelia Kunz and Julia Igel from Boehringer Ingelheim, Marvin N. Wright from Leibniz Institute for Prevention Research and Epidemiology and Antonia Zapf from the UKE (Universitätsklinikum Eppendorf). This session was part of the Podium Discussion: "Traditional vs. new career paths in Data Science" (Hüls/Kunz). The abstract of this session can be found at the end of this post.
After a short introduction, Hannes talked about Staburo´s concept for a good work-life-balance which is in fact not limited to parents but to employee needs in general. This includes most importantly home office and flexible working hours for everyone as well as permanent contracts and individual arrangements for contracts.
Please be aware of the other 2 GMDS & CEN-IBS contributions from Staburo, which will be published as recorded sessions:
Estimands in treatment switching (Juliane Manitz and Hannes Buchner)
Pre-specified matching analyses in an observational study (Lena Herich and Hannes Buchner; both Staburo)
It was the 65th Annual Meeting of the German Association for Medical Informatics, Biometry and Epidemiology (GMDS), Meeting of the Central European Network (CEN: German Region, Austro-Swiss Region and Polish Region) of the International Biometric Society (IBS) including the 66th Biometric Colloquium of the German Region. They agreed on a small online format (https://www.gmds-cen-2020.de/scientific-program).
Abstract:
Kinder? Karriere? Beides! Viele Nachwuchswissenschaftler/innen fragen sich, wie man Familie und Beruf am besten vereinbaren kann. Fragen wie "wann ist die beste Zeit eine Familie zu gründen?" oder "ist es möglich, Karriere in der Industrie oder der Wissenschaft zu machen und gleichzeitig Kinder zu erziehen?" beschäftigen viele junge Berufstätige.
Die Session gibt Einblicke von Eltern, die bereits die Herausforderung, Familie und Beruf zu vereinbaren angenommen haben. In mehreren Kurzvorträgen berichten Mütter und Väter von ihren Erfahrungen, sowie den Höhen und Tiefen ihrer persönlichen Wege. In der anschließenden Podiumsdiskussion werden Themen wie "Kinder lieber früher oder später bekommen", "Industrie versus Wissenschaft", "Elternzeit und Teilzeit" sowie "Auslandsaufenthalte und Dienstreisen mit Kind", "Umzug und Jobwechsel" diskutiert.
 Die Session soll Nachwuchswissenschaftler/innen und jungen Berufstätigen Mut machen, Kind und Karriere mit einander zu vereinbaren, zum Erfahrungsaustausch zwischen berufstätigen Eltern anregen, und ein Bewusstsein für die Wünsche und Herausforderungen bei Vorgesetzten schaffen. 
Data analysis, clinical biostatistics and more.