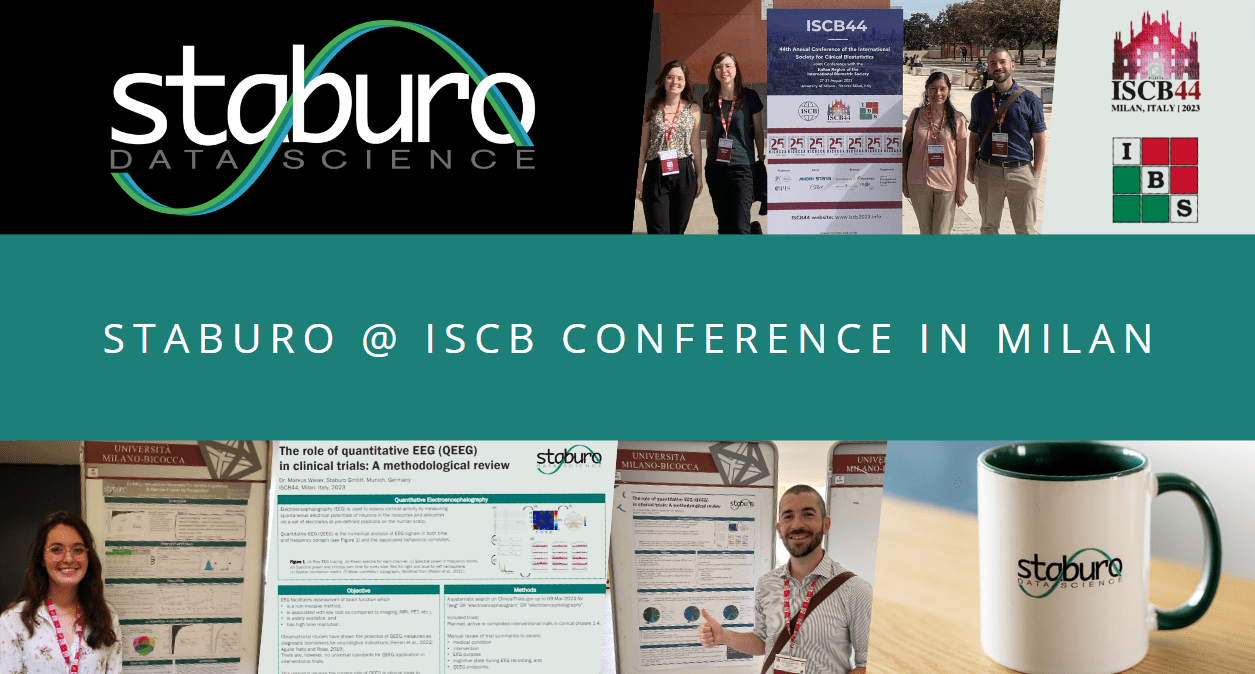 Staburo presents two posters @ ISCB conference in Milan
The 44th Annual Conference of the International Society for Clinical Biostatistics (ISCB) took place in Milan from the 27th to the 31st of August, and Staburo was there to be part of it. Four team members attended the conference, with two of them presenting posters.
The first poster "The role of quantitative EEG (QEEG) in clinical trials: A methodological review" was presented by Markus Waser, Senior Biostatistician at Staburo. It reviews the current role of quantitative electroencephalography (QEEG) – which is defined as the numerical analysis of EEG signals in both time and frequency domain – in clinical trials. QEEG measures have shown potential as diagnostic biomarkers for neurological indications in observational studies, but there are no universal standards for QEEG application in interventional trials. The presented review results suggest three major current roles of QEEG in clinical trials: 1. Epileptic seizure detection, 2. Anesthesia monitoring during surgery, and 3. Efficacy assessment of interventions for neurological and mental and behavioral disorders. The majority of QEEG assessments is conducted using power spectral analysis.
The second poster, entitled "Deriving interpretable thresholds for Variable Importance in Random Forests by permutation", was presented by Maria Blanco, Working Student in Biostatistics and Data Science. This research project is a collaborative work involving Maria, Staburo employees Tim Müller, Laura Schlieker and Hannes Buchner, as well as Armin Ott from Roche Diagnostics, and Roman Hornung from the Institute for Medical Information Processing, Biometry and Epidemiology, University of Munich. The project focus on the Random Forest (RF) method, adept at addressing challenges in high-dimensional data analysis and offering accurate predictions. Given its strengths, RF emerges as a potent tool in biomarkers research and personalized medicine. The group has been working on a method to identify all relevant covariables in these predictions.
During the conference, attendees engaged in a variety of parallel talk sessions, courses, and mini symposia. Social events were also on the agenda, including a welcome reception at the Società Umanitaria di Milano and a dinner at the Villa Reale of Monza, a stunning historic palace just outside the city. For those new in biostatistics, the conference featured a student gathering and the Early Career Biostatisticians (ECB) day, complete with several talks.
The event was a rewarding experience for the Staburo team, and we are already looking forward to the next one!
Data analysis, clinical biostatistics and more.