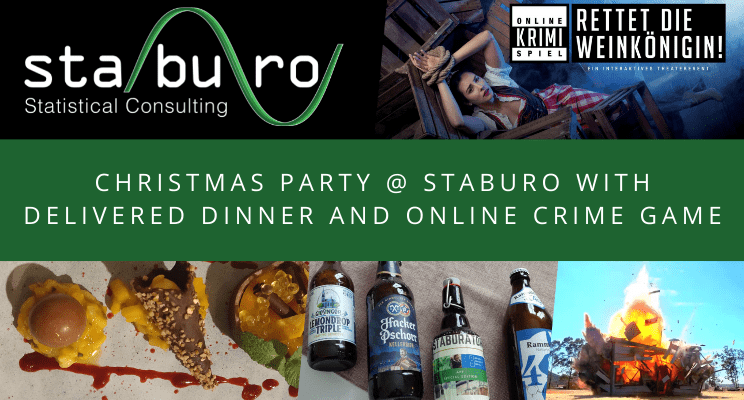 Christmas Party 2021 @ Staburo
The Staburo Christmas Party followed the "tradition" of an online event for the second year in a row, but we made the best of the situation and had a very jolly time. As last year, the delivered food boxes contained a three-course menu, which was prepared by each participant after the year in review by Managing Director Dr. Josef Höfler.
The second highlight of the evening was an online crime game, with real actors! Some of the teams completed the challenge (solving a "Wine queen" kidnapping case), however the solution was quite difficult. The others unfortunately triggered a bomb which killed the "Wine queen" and destroyed most of the local wine production – not for the faint hearted!
As the last agenda item, we had a beer tasting with Managing Director Dr. Hannes Buchner. Each employee received a tasting set beforehand, including the famous hand crafted STABURATOR, plus Hacker-Pschorr Kellerbier, Giesinger Bräu Lemondrop and one Rammlerbräu Helles from former Staburoian Max Siebold!
We wish you relaxing Christmas holidays as well as health and happiness for the new year!
Update: results of MS Teams employee feedback poll in a word cloud below.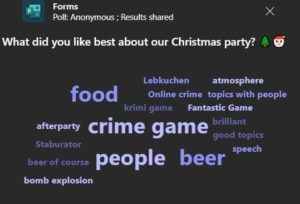 Data analysis, clinical biostatistics and more.