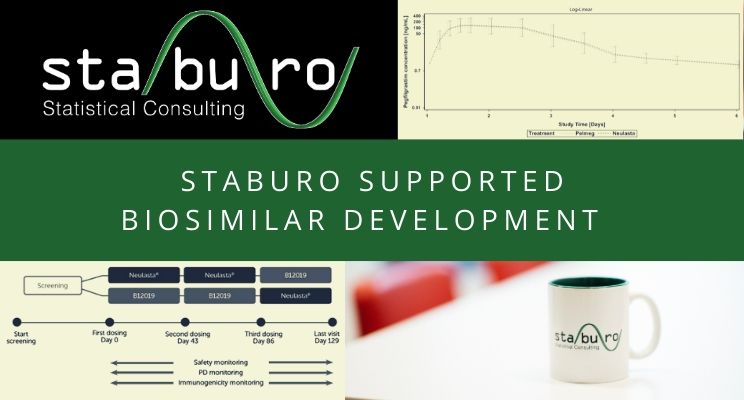 Staburo supported biosimilar development 
Together with Cinfa Biotech GmbH (now Mundipharma Biologics) and the University of Lucerne, Staburo recently published the first part of the results for a biosimilar which is used for preventing neutropenia, induced by chemotherapy (click here to read the whole article DOI: 10.1002/prp2.503). As part of the collaboration, Staburo Principal Statistician and Managing Director Josef Höfler supported the interdisciplinary team with biostatistics expertise, especially in PK/PD.
The team planned, conducted and analysed a single dose, randomized, double-blind, two-way crossover study and demonstrated the comparability for the two PK endpoints examined (area under the concentration curve from time zero to last measurable concentration and the maximum concentration). The PD comparability (area under the effect curve for absolute neutrophil count [ANC]) was demonstrated, as well. The team could show that there are clinically no differences between biosimilar and the originator with regard to immunogenicity and safety. The investigated drug was approved as biosimilar in Europe.
Data analysis, clinical biostatistics and more.