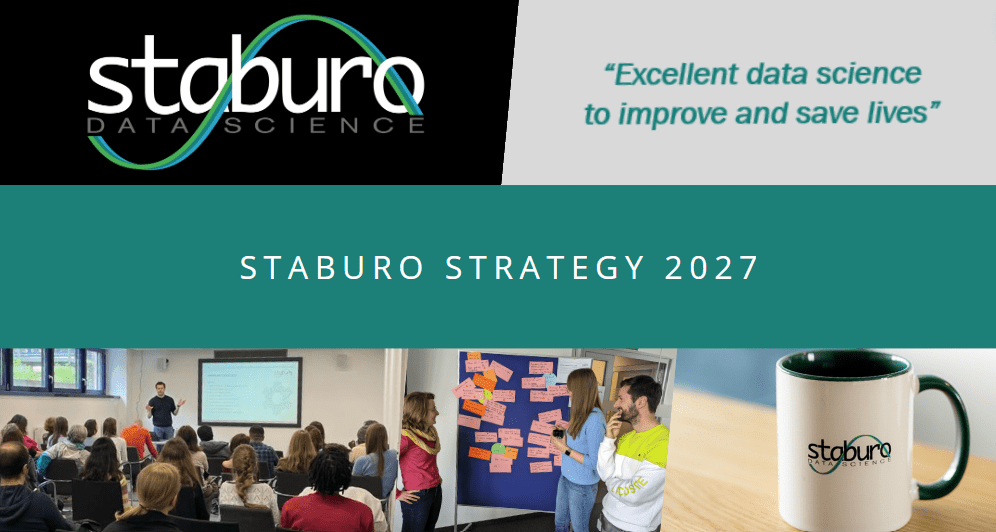 Staburo Strategy 2027
Within the last months we renewed and adapted our 2027 strategy. Five years ago, we conducted our first internal strategy workshop with an external consultant to define Staburo's vision, mission, values, and goals for the future.
Since then, we have grown sustainably, expanded our services further, and successfully completed a broad range of great projects with our clients. The last five years passed quickly, and it was time to get together again for a deeper check and adaptation of our strategy. This year, the strategy workshop took place in three consecutive steps.
First, our Managing Directors (Hannes Buchner, Josef Höfler, Roland Stieger), our Head of Business Unit (Katrin Frank) and our external consultant came together earlier in this year. As preparation, all employees were interviewed about the opportunities, risks, strengths, and areas of development they see for Staburo in the future.
In a second step, a workshop with the entire Staburo management team took place and the strategy, including mission and vision, was broken down to the different business areas.
Finally, we organized a half-day workshop for all employees including a lunch together afterwards. During the employee workshop, the Staburo strategy 2027 and related initiatives have been presented as well as group discussions about the latest topics and trends took place.
In the end, we produced a comprehensive roadmap, including different strategic initiatives and goals for the next years.
Of course, our core purpose did not change over the last years, but we reformulated it in the process to "Excellent data science to improve and save lives."
We were very happy to get positive feedback and constructive ideas from our colleagues during the workshop and a short evaluation.
We are looking forward to taking the next steps together with our employees, clients, and suppliers!
Data analysis, clinical biostatistics and more.