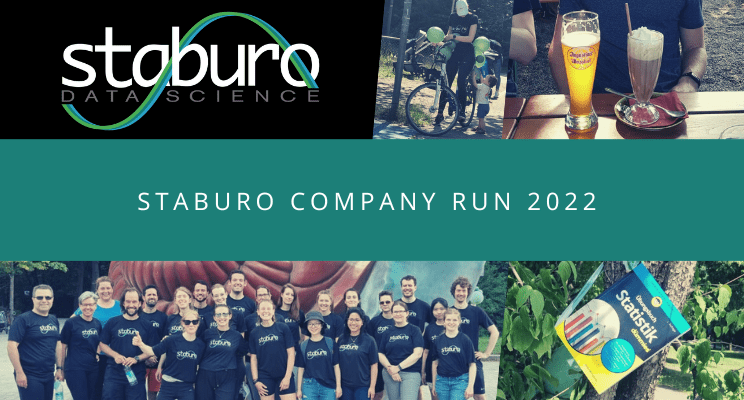 Staburo Run – sport day number 2
"An expanded team comes together – let's get the sporty spirit rolling"
Our annual company run is already a tradition since 2016. It originated in the B2Run, a Germany-wide event held in different cities, Munich among those.
In 2021, the corona pandemic forced us to think creatively. We wanted to continue the run but as something less anonymous that still sticks to the safety regulations. Based on these conditions, we quickly designed our own internal company run in 2021 with the aim to encourage the sporty spirit in us, reconnect with colleagues, and find a complement to our usually sedentary tasks.
For this year's run, we unintentionally chose one of the hotter days of this summer. But, thanks to our team spirit, we were able and motivated to join.
Our start and finish line was the sweet brown snail next to Bavariapark. The track was marked with green balloons and ribbons and went as a circle across Westpark.
To ensure everyone runs the whole circle, team members had to find a statistics book, tear out a page, and hand it in at the finish line as proof that he/she had not taken a shorter way.
After a little warm-up session team members grouped together, smartly dressed in their new Staburo Data Science t-shirts, and battled their way through the heat. After about 5 K everyone successfully reached the finish line in the shade. Drinking water was served and water-filled balloons were smashed to cool down. The atmosphere was relaxed and cheerful, with lots of chit-chatting going on. At about 6 pm most of us joined for a toast and food in the Biergarten am Bavariapark.
All in all, it was a fun afternoon out, and running together was motivating and inspiring and bought us closer together as a whole team. A big thank you goes out the the organisers and all participants!
Data analysis, clinical biostatistics and more.