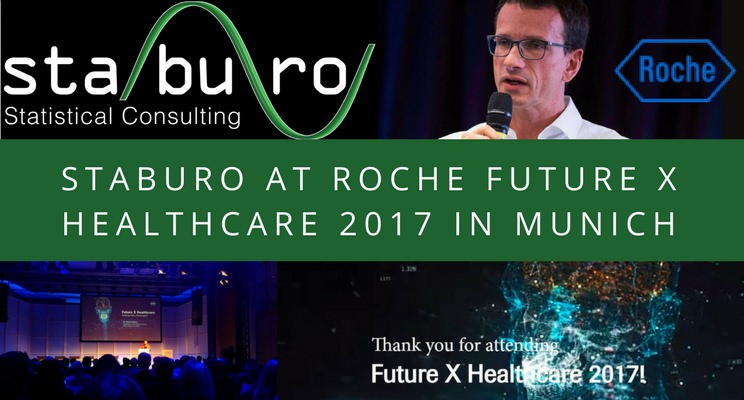 Staburo's Head of Biostatistics Dr. Hannes Buchner took part in the first Roche Future X Healthcare 2017 event in Munich. The topic was "Making Data Meaningful – from Science to Patients", a motto that could easily fit to our daily work at Staburo.
The agenda started with an introduction by Dr. Ursula Redeker (Spokesperson of the Executive Board, Roche Diagnostics GmbH) and patron Ilse Aigner (Bavarian Minister for Economic Affairs, Media, Energy and Technology) and was followed by inspiration talks, networking @ its best and a panel discussion: "Personalised Healthcare in a Digital Era", with networking opportunities in between. A little more diversity in the panel discussion would have added the cherry on the sundae.
The award winners for FXH Scientific Excellence and FXH Start-up were announced afterwards, in a oscar-like ceremony. Very professional video footage of the barcamps for participants in both competitions was shown, which was very entertaining. There were even unique awards designed and crafted by Munich art students. The FXH Scientific Excellence award was won by Lara Schneider, from University of Saarland. FibriCheck, a medically certified screening and monitoring application for the detection of irregular heart rhythms, won the FXH Start-up award – great idea and potentially a lifesaver!
The Roche Future X Healthcare 2017 was an event, which was a big advertisement for Roche, Bavaria and the connected healthcare data science start-up and academic scene.
We are very happy that media and client interest puts these former niche topics on the agenda, so if you need a partner to make your data meaningful, don't hesitate to contact Staburo today!
You need support with your healthcare data project?