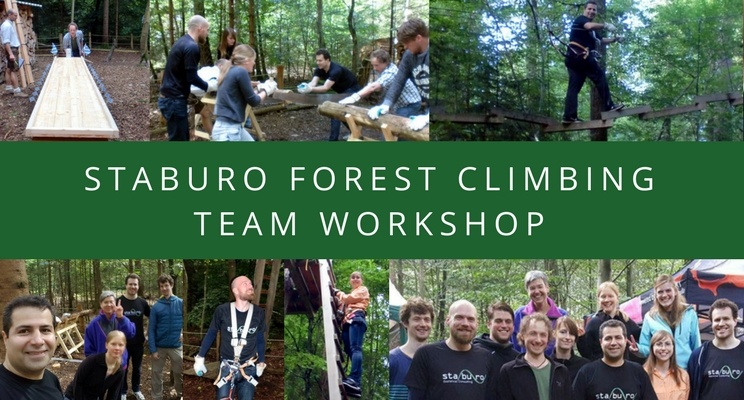 Staburo's biostatisticians and statistical programmers enjoyed a wonderful event that was combining team spirit, mental strength, physical fitness and a lot of fun. We spent a great afternoon – not in a Random Forest – but in the Climbing Forest near Munich (www.kletterwald-muenchen.de). The first challenge was "Visa for Bavaria", to test our assimilation status in this particular region in Germany. We started with more or less typical Bavarian activities, like beer stein holding and sliding, nail tapping, barrel rolling, sawing and skiing. Furthermore, our Bavarian language skills were tested in a single-blinded trial. This was followed by fresh coffee and excellent homemade chocolate cake, to refill our energy level.
After the security introduction, we distributed ourselves equally to the five climbing routes, with different difficulty levels. Up in the trees, we could speed up in "flying foxes", ride a sled and even drive a bobby car. The routes are up to 12 meters high, but for people who are afraid of heights, there are also lower options.
In the evening, the Kletterwald Team organized a delicious barbecue, during which we could share climbing experiences with each other. Since we all did a great job in activities and quizzes, everyone also got a certificate for the "Visa for Bavaria" game, including funny prizes. We even think about including some of these tests in our introductory training for new employees.
This team event at the Climbing Forest was very exciting and we all will come back soon!