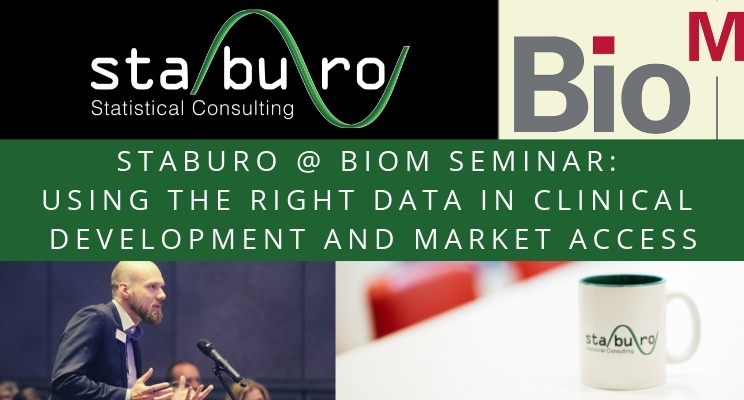 Staburo @ BIO-M Workshop: Start thinking with the end in mind: Using the right Data in Clinical Development and Market Access
Staburo's Managing Director Roland Stieger attended the BioM seminar with the topic "Using the right Data in Clinical Development and Market Access" in Munich.
The main topic at this seminar was the future of Clinical Trial Designs, Real World Evidence Plus, further Market Access – study requirements and strategic insights in context of the patient related data to facilitate clinical development. Integrated, patient centered thinking may grant additional opportunities to develop better solutions faster in the clinical field.
Speakers were Dr. Ute Simon, Medical Director at the Novartis Pharma GmbH, Dr. Timm Volmer, Founder from SmartStep Healthcare & Market Access Consulting GmbH and Dr. Reiner Lehmann, Founder from DontBePatient Intelligence GmbH.
Novartis Pharma is one of the largest pharmaceutical companies. Novartis uses science-based innovation to address some of society's most challenging healthcare issues. The talk was about the future of clinical development and the clinical trial designs.
SmartStep Healthcare & Market Access Consulting provides individualized and specialized consulting for the pharmaceutical and medical device industry, in order to achieve a rapid and effective market access for their products. Dr. Volmer's topic was the integrated Market Access planning with questions like how to obtain advice from HTA institutions.
DontBePatient Intelligence generates Real World Insights derived from patients. Dr. Reiner Lehmann talked about how to identify and engage patients in the digital space and how to generate data to inform target population selection, trial design and choice of endpoints through patient derived information.
We thank BioM for the organisation and the speakers for their expert insights!
Data analysis, clinical biostatistics and more.