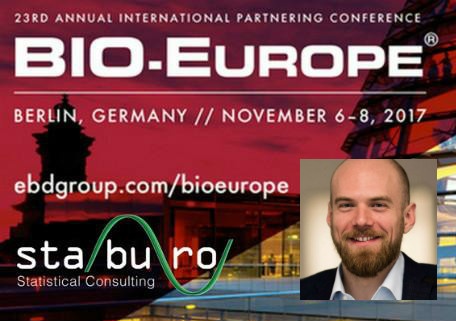 Staburo's Managing Director Roland Stieger joined the BIO-Europe for the third time and enjoyed the good organization and networking opportunities of this partnering conference.
The event started with a great panel discussion, with relevance for Staburo "The evolving role of Real World Evidence in regulatory approval and reimbursement decisions" (panelists: Stella Blackburn, IQVIA; Janice Haigh, PAREXEL; Athula Herath, Novartis).
Since some of these data analyses are pretty non-standard, we see a lot of potential to support big pharma clients for a niche data expert CRO like Staburo.
Furthermore, there were other relevant panel discussions about "Health Technology Assessment in Europe" and also very interesting ones, like a "Startup Slam" where entrepreneurs could pitch their biotech ideas.
Roland Stieger attended the well organized official BIO-Europe receptions and invite-only events like the BIOCOM PanAm-Lounge, great location by the way! Thanks to EBD for this conference and see you next year in Copenhagen.
Here you find some live footage of Roland by labiotech.eu: