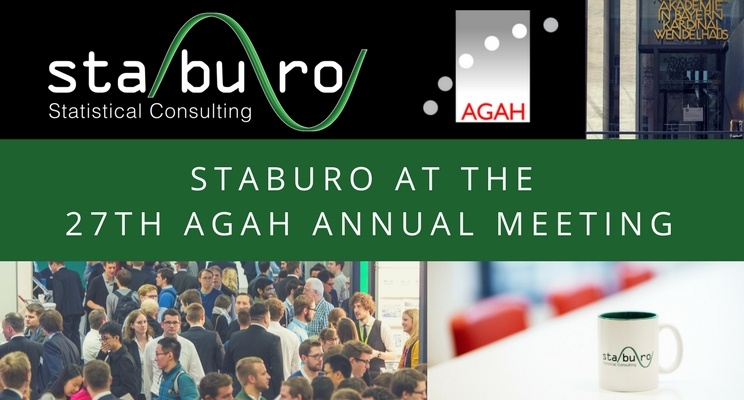 The Staburo Managing Directors Josef Hoefler and Roland Stieger had the opportunity to join the AGAH Annual Meeting in April 2018, here in Munich.
The conference focused on how to prevent or predict adverse drug reactions in early phase drug development. The major target organ systems were liver, kidney, CNS, cardiac function. Further sessions were dedicated to local tolerance and immunotoxicity.
The following questions were addressed in excellent expert talks and panel discussions.
How can animal models and in vitro data help to estimate risk regarding human administration?
How can kidney and liver function best be monitored in the settings of early phase trials?
What do we need to know to assess potential CNS adverse drug reactions early on?
What are the pathophysiological mechanisms leading to potential cardiac toxicity?
What are the guidelines on non-clinical local tolerance testing?
How to monitor immunotoxicity in novel immunological therapies?
The conference gave participants the opportunity to discuss these and additional questions with expert speakers, regulators and ethic committees members as well as colleagues from pharmaceutical industry, CRO and academia.
The meeting started with a one-day pre-conference workshop about basic terms and key concepts of pharmacovigilance with a strong focus on early phase drug development. This workshop offered an excellent preparation for the annual meeting for those who are not yet experts in the field.
Staburo participated in the conference and the networking opportunities and we were very happy to get to know new people in the field of clinical trials and to catch up with partners from client companies. Thank you for this great event in Munich!