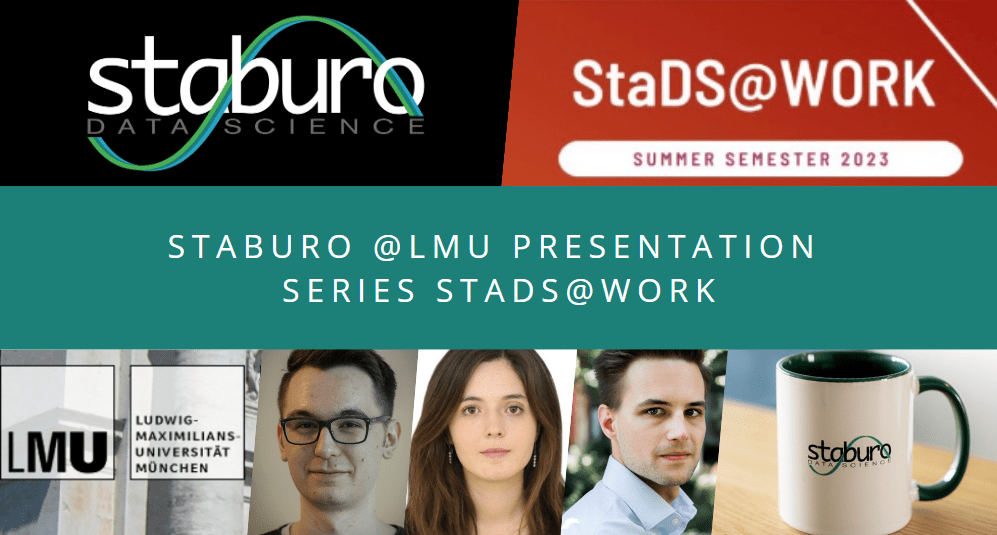 Staburo at StaDS@Work – LMU 
We are pleased to announce our participation in the upcoming StaDS@Work event at Ludwig-Maximilians-Universität (LMU).
Staburo Senior Data Scientist, Stephan Bischofberger, will be presenting at this event. He will share insights on his role, daily tasks, and his experience of statistics and data science within the healthcare sector. Stephan will be accompanied by Staburo working students Maria Blanco and Tim Müller. This is an excellent opportunity to gain insights into the practical implications of biostatistics in a professional context. 
StaDS@Work, short for Statistics and Data Science at Work, is an initiative by the Statistics Student Council (also known as Fachschaft Statistik) at LMU that promotes connections between industry and academia. It invites industry professionals to showcase their roles and share their perspectives of being a statistician or data scientist in the business world. More information about the event and the organizing group can be found on their website.
The presentation is set to take place on June 21st at 18:00 in the Institute of Statistics seminar room, located at Ludwigstraße 33 on the 1st floor and it will also be possible to attend online via this Zoom meeting (Meeting ID: 921 6724 6898, passcode: StaDS@Work). 
We warmly welcome all those interested in broadening their knowledge on how data science and statistics are applied in the clinical research and development area to attend. We at Staburo are eager to share our insights with the students and appreciate the opportunity to introduce ourselves to all attendees. For more details about the event or any queries, please feel free to contact us. 
We are looking forward to seeing you there!
Data analysis, clinical biostatistics and more.