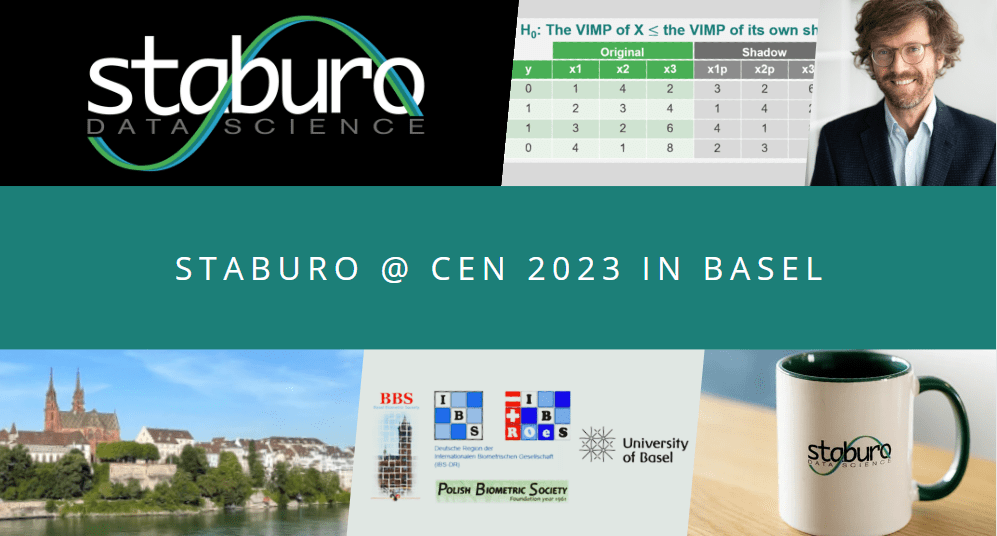 Staburo @ CEN 2023 conference in Basel
Staburo GmbH Head of Biostatistics and Managing Director, Hannes Buchner, will present the research project "Deriving interpretable thresholds for Variable Importance in Random Forests by permutation" during the high-dimensional analysis session at the Central European Network (CEN) conference. This year, the conference is being held in Basel, Switzerland, and the presentation is scheduled for the 6th of September at 9:10 am. (More information about this session can be found here).
The CEN promotes the exchange of biometry knowledge in Central Europe. It's led by the Austrian Swiss, German, and Polish branches of the International Biometric Society (IBS). The upcoming event, the CEN2023 Conference, will take place from 3-7 September at the University of Basel's Biozentrum. For those interested in participating, online registration is still open and can be accessed here. For more detailed information about the conference, please visit www.cen2023.ch.
The presented project is a collaboration between Staburo employees Hannes Buchner, Laura Schlieker, Maria Blanco and Tim Müller, as well as Armin Ott from Roche Diagnostics and Roman Hornung from the Institute for Medical Information Processing, Biometry and Epidemiology, University of Munich. The project's focus is on the Random Forest (RF) method, which is capable of handling challenges present in high-dimensional data analysis and delivers predictions with good accuracy. Given these capabilities, RF is a powerful tool in biomarkers research and personalized medicine. The research group has been working on a method to determine all relevant covariables in these predictions. The talk will introduce the established Boruta algorithm, explain the improvements the proposed method, and then compare the performance of both methods using real and simulated data sets.
We are looking forward to sharing our findings at the conference and warmly invite anyone curious to join and engage in the after-talk discussion!
Data analysis, clinical biostatistics and more.