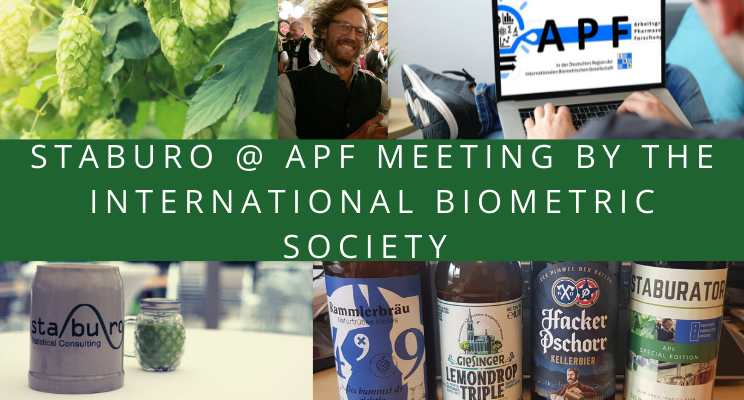 Staburo @ APF meeting
On November 26, Staburo participated in the annual workshop of the APF (working group Pharmaceutical Research) by the International Biometric Society German Region. This year's workshop (just like the one last year) took place virtually due to Covid-19 and focused on the topic "Breakthrough Therapies", the agenda can be found: HERE
This year, Staburo was granted the privilege of organising the virtual evening meeting on November 25. In honour of the Munich roots of our company, each participant received a beer package for an online beer-tasting event, organised by Staburo Managing Director Dr. Hannes Buchner. The package contained four different types of beer, each of them brewed in or around Munich and, as a highlight, included the home-brewed "Staburator" beer.
During the workshop, the attendees listened to a talk about EU early access schemes including a Risk/Benefit assessment of early market access. Furthermore, the presentations included a talk regarding potential statistical challenges faced by planning a confirmatory trial for breakthrough therapies. In the end, the topic of early access was revisited, this time focusing on early access in the German HTA-procedure – concluding that it does not make life in German HTA easier.
The presentations were topped off with a detailed discussion of the most interesting aspects.
All participants are looking forward to another successful workshop in 2022, which will hopefully provide the possibility to interact and discuss in person again!
Data analysis, clinical biostatistics and more.