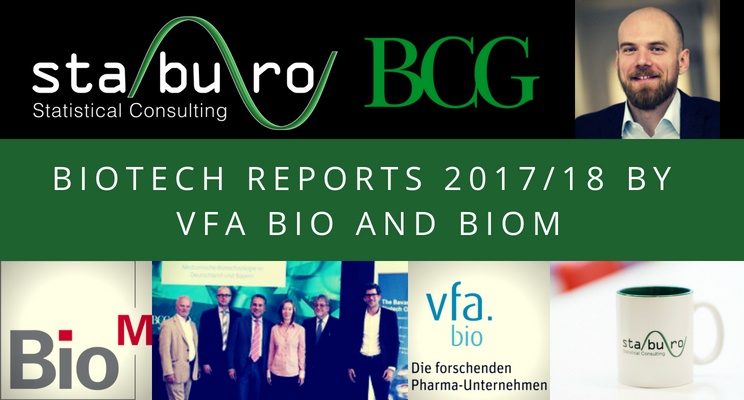 Presentation of biotech reports 2017/18 by vfa bio and BioM + overview of Staburo's Data Analytics solutions
The vfa bio – the biotechnology advocacy group in the Association of Research-Based Pharmaceutical Companies – and BioM presented the current development of medical biotechnology in Germany and Bavaria at The Boston Consulting Group (BCG) office in Munich.
The surveys show an upward trend in medical biotechnology in Germany – Bavaria makes a clear contribution:
Admission record: 23 new biopharmaceuticals in 2017, one of them "made in" Bavaria
With 14,500 employees, Bavaria accounts for around one third of Germany's 47,000 medical biotechnology employees
Biopharmaceutical drug pipeline well filled
Trend digitization is also evident in the new start-up companies
Further information can be found in the accompanying press release, in German.
What we have learned
Roland Stieger, Managing Director of Staburo, attended the event. Some of his conclusions from talks and discussions were:
Biological drug development in Germany/Bavaria is sustainable and growing, if health politics provides friendly environment for new drug development
Special positive location factor for Germany/Bavaria is salary, education and loyalty of employees (compared to e.g. USA, Asia)
Local collaborations are preferred option for big companies, like Roche or Morphosys
Big demand in Data Analytics in Healthcare – however very difficult to find expert support
If you also face these challenges in Data Analytics, we would like to offer our help. We currently have a team of 18 Data Scientists (mostly biostatisticians, mathematicians and related), who analyze data from healthcare projects on a daily basis. For sustainable growth, we also introduced the first biostatistics trainee program last year.
In Data Analytics, we don't offer out-of-the-box services, but talk to our clients to learn about their challenges and then find tailor-made solutions for them, using state-of-the-art methods.
Data Analytics @ Staburo
Here we provide a short list of examples of our successful Data Analytics collaborations:
1. Non-Clinical Data Analytics
Statistical assessment of analytical similarity
For tech transfers or production changes
For biosimilars according to EMA / FDA guidelines
Design of experiments: input and recommendations
Tuning of process parameter
E.g. minimize production down-time
Stability testing
Shelf life estimation by extrapolation
Release specifications based on aging
Statistical process control
Custom user interfaces for lab technicians
Automation of statistical QC procedures
Report generation for critical assessment
2. Translational Medicine & Biomarkers
Phase I to phase III
Agency interactions and submissions for top 20 pharma
Various indications and biomarker types (e.g. Gene expression, Protein biomarkers, Genomics, Imaging)
Purpose of biomarkers (e.g. Prognostic, predictive and diagnostic potential of biomarker, Pharmacodynamics, Safety)
Study designs (e.g. Enrichment strategies, Adaptive designs)
SAS and R (including interactive shiny apps)
Identification of prognostic and predictive biomarkers (e.g. Penalized regression, Virtual twins, Cut-off detection)
Multivariate data visualization (e.g. Principle component analysis, Partial least squares, Clustering)
Stability assessment (e.g. Cross-validation, Bootstrapping)
Signature identification
We would love to apply our experience to your project! Don't hesitate to contact us, if you have any questions!