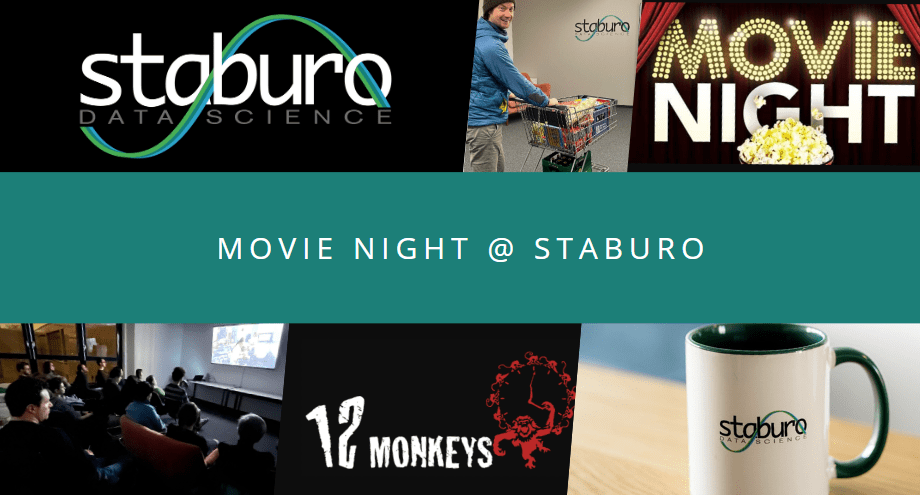 Movie Night @ Staburo
On a Friday night, 18 Staburo team members, 6 big pizzas, popcorn, a bunch of other snacks, soft drinks, and beer. What could this mean? It was about time for our Staburo team movie night.
Finally, the time had come – some of our colleagues have been waiting for years for this event to happen. Originally it was planned in Friday, 13 (!) March 2020. What happened next is still known to us all.
Ironically, the movie "Twelve Monkeys" had already been selected to be shown that evening in early 2020. The movie "Twelve Monkeys" is an American science fiction film, already published in the year 1995 and tells the story about a prisoner who goes back in time to avert a deadly plague.
For this evening, our big meeting room was equipped with all comfortable armchairs and sofas we could find in our office. Around 6pm the group started with food, drinks and even a small presentation from one of our team members. He prepared an entertaining presentation about the main characters of the movie.
Thanks to the organiser for the amazing movie night and the great catering.
Solidarity and fun are not only part our core values, also something that is lived at Staburo and our team enjoys it very much. Thus, quite a few other team events – organised internally by team members, for example a running dinner night or climbing & skiing activities – already happened or are in the making.
We are looking forward to the next team activities!
Data analysis, clinical biostatistics and more.