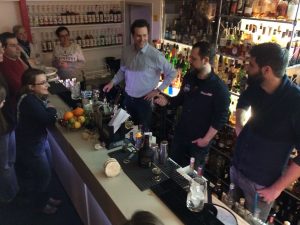 This year's Staburo Christmas party took place in the Barschule München, where we learned very much about famous Cocktails, its variants and how to produce them.
We started the course with (single-)blinded sensorical testing of different alcoholic analytes, by smelling only. The best of us could get about half of the samples right, which showed a lot of training potential here.
Then, Matthias Knorr, the owner of the Barschule explained about Gin and Rum and we could – this time unblinded – taste the differences between the brands and production styles.
This was followed by a very active bottle juggling – or flair bartending – show in the training room of the school, where we could also practice some tricks.
In the last session, Matthias showed us how to produce tasty drinks – we even made a Lebkuchen (gingerbread) cocktail!