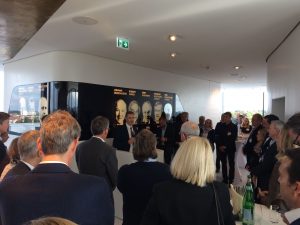 On 13 October 2016, managing directors and press officers of biotech, pharmaceutical and venture capital companies, as well as journalists, were meeting at the Faculty Club G2B of the IZB in Martinsried near Munich. There were three compact presentations held before a networking lunch:
"Therapy advantage in cardiology through biotech" Dr. Stefan Kropff (Executive Medical Director, Amgen GmbH)
"How to turn dust into stone with the help of bacteria"
Martin Spitznagel (Managing Director, Dust Biosolutions)
"New genomic methods for blood analysis:
Liquid Biopsies" Dr. Rainer Schubbert (Head of Operations Applied Genomics,
Eurofins Genomics)
For Staburo it was very exciting to see what is developed currently at the IZB in Munich, but also to learn about the successful history of several companies. As a specialised service provider for biostatistics solutions, it was also very interesting to meet current and potential clients in a relaxed atmosphere – we will definitely take part in more IZB events in the future!
The next Biotech Press Lounges will be on 16 February 2017, 11 May 2017 and 12 October 2017. Reservations can be made at marketing@izb-online.de.